Over $1,500 Worth of Investing Secrets for Only $149!
Get three of our most popular research services for the price of one…
And start building a fortune and put yourself on the path to financial freedom TODAY!
✔ Yes! I'd like to take advantage of this limited time offer and receive your top three investment research services for only $149.
✔ Yes! I want to become a member of Secrets of a 7 Figure Trader, Hidden Profits, and Peak Income for over 66% off the retail rate.
✔ Yes! Give me over $1,500 worth of books, special premium reports and exclusive bonus videos from The Rich Investor's Adam O'Dell, Charles Sizemore, and John Del Vecchio.
Claim this special offer today and you'll receive
ALL of the following…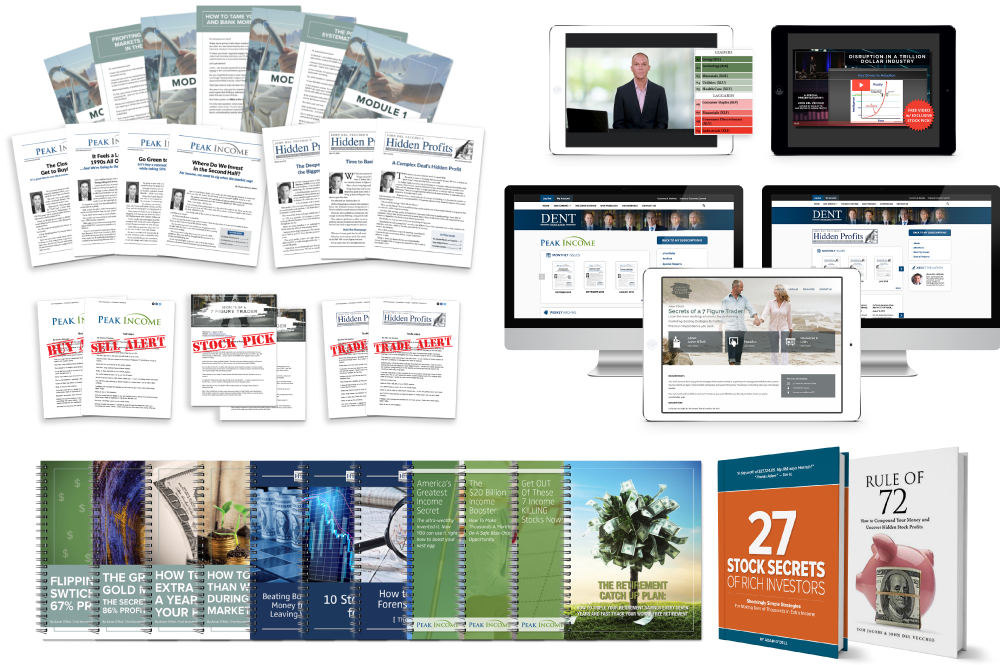 Adam O'Dell's
Secrets of a 7 Figure Trader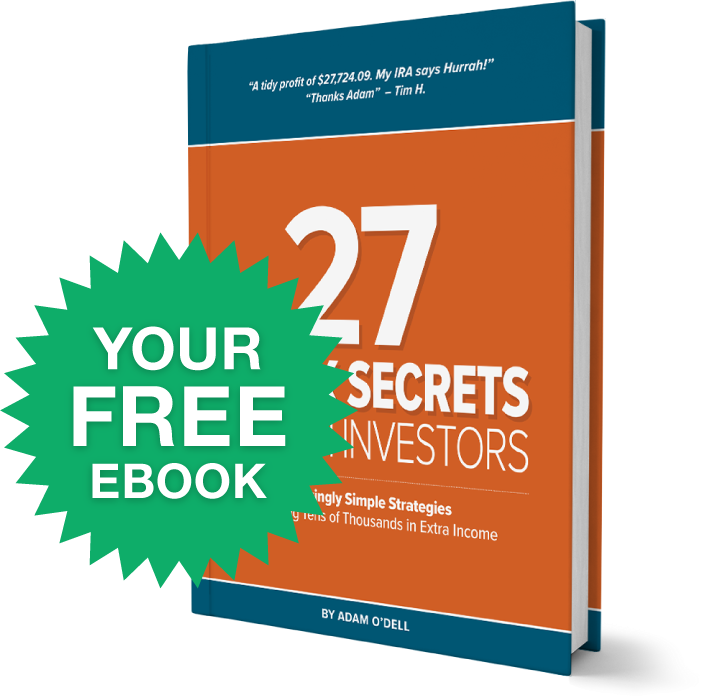 Brand New EBOOK: 27 Stock Secrets of Rich Investors
Access to over $588,221 and counting in simple, stock saving secrets that changed Adam's life. This collection of powerful strategies is perfect for anyone looking to potentially make tens and even hundreds of thousands of dollars from the stock market.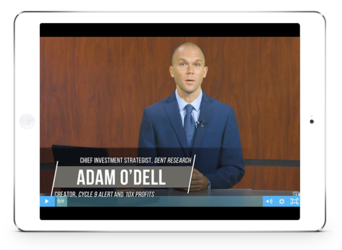 27 Stock Secrets of Rich Investors Video Course
To help reinforce the lucrative set of secrets inside my new e-book, I'll also receive a special seven-module video course. My course contains over 4 hours of on-demand video and downloadable transcripts to review at my leisure.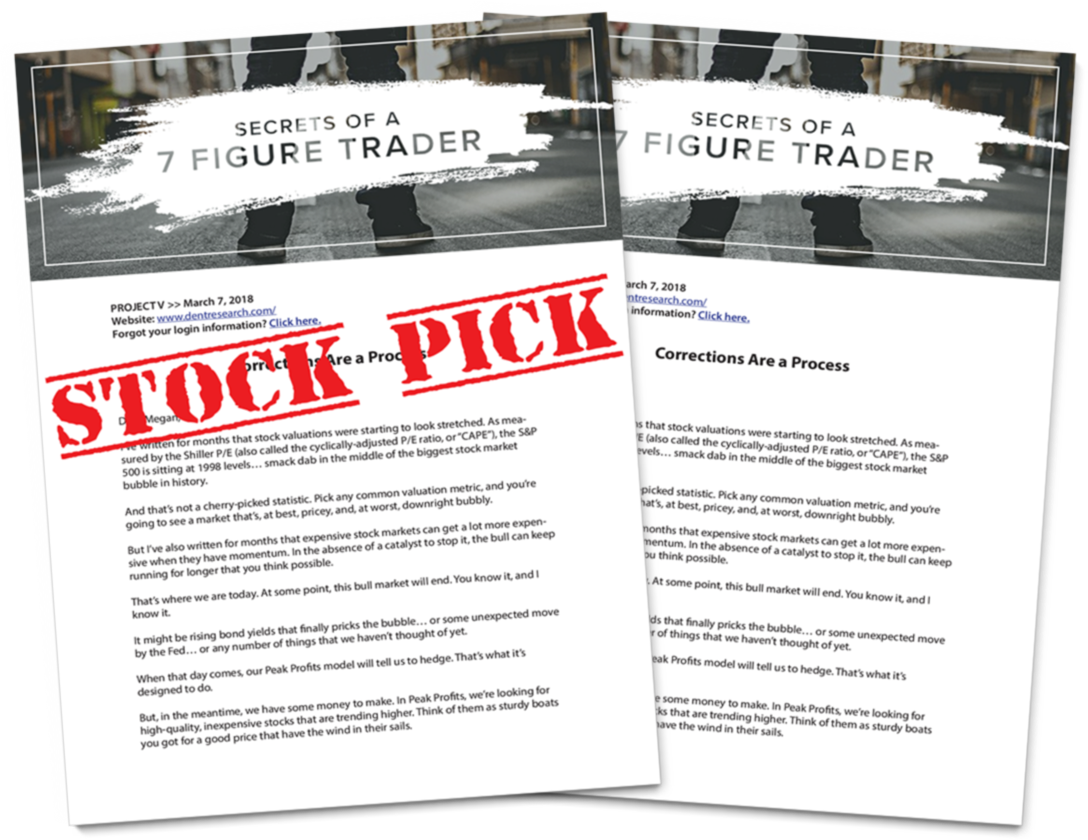 Secrets of a 7 Figure Trader Weekly
Information sent directly to my inbox containing the investments I need right now to build my wealth. I'll learn the hottest sectors of the week, updates on where the market is headed and how I can take advantage to make extra cash.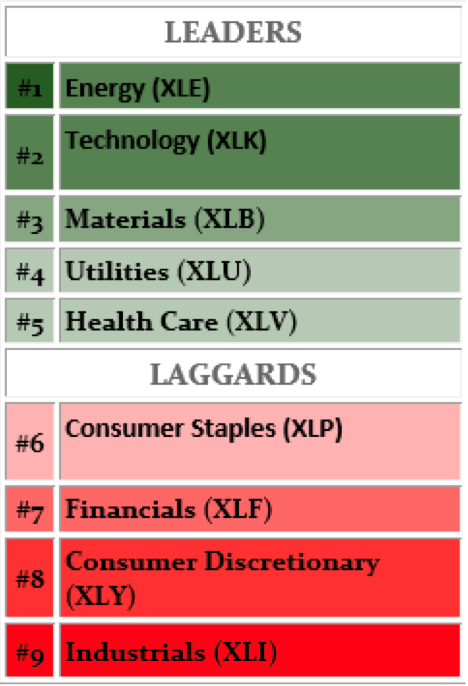 Weekly Leaders & Laggards Board
Consider this my 'birds-eye-view' of what's happening in the market at any given time. I'll see the hottest sectors of the stock market – entire industries primed for fast profits. Plus, the coldest sectors to stay away from!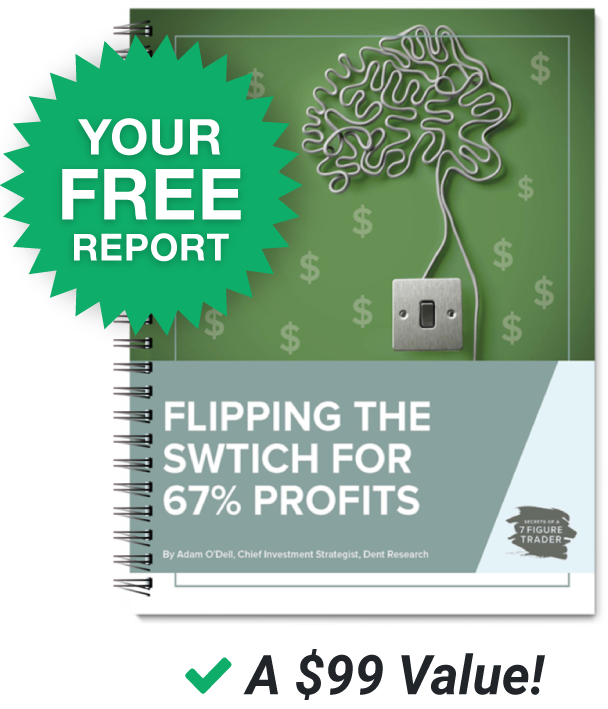 Premium Report: Flipping The Switch for 67% Profits
The powerful strategy that delivered 67% in returns last year by trading just two simple investments that most people completely ignored.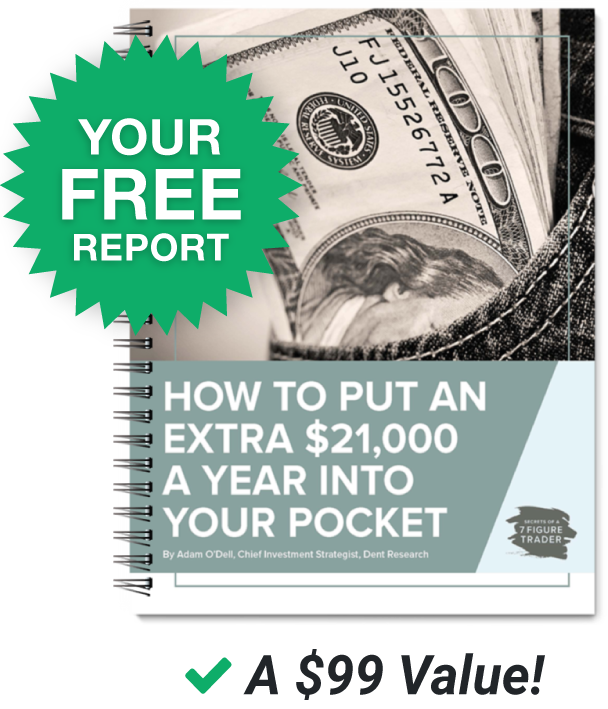 Premium Report: The Green Zone Gold Mine – The Secret to Banking 86% Returns Per Trade
Remove the guesswork from when I should buy… sell… or hold any investment. Plus, I'll discover a never-ending stream of stocks averaging 86% profits per trade…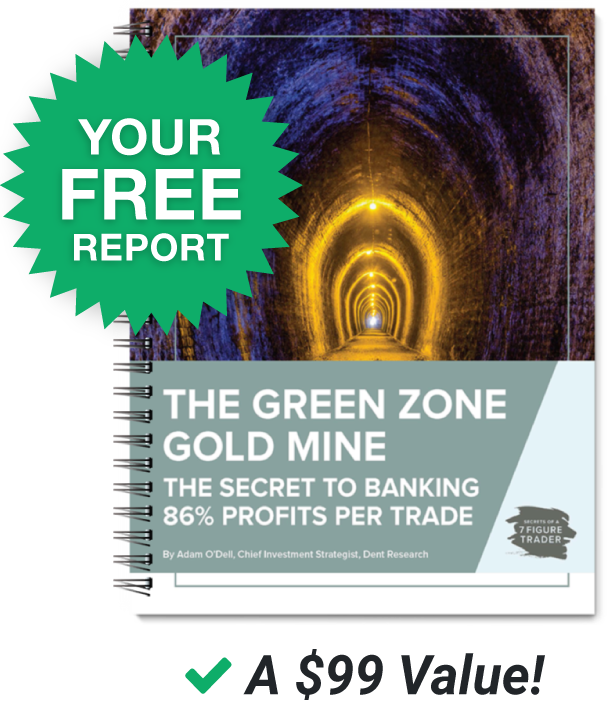 Premium Report: How To Put An Extra $21,000 a Year in Your Pockety
Take advantage of predictable patterns that occur every year in the market almost without fail… that would have turned $100,000 into $485,368 over the last 16 years compared to just $150,000 for the S&P.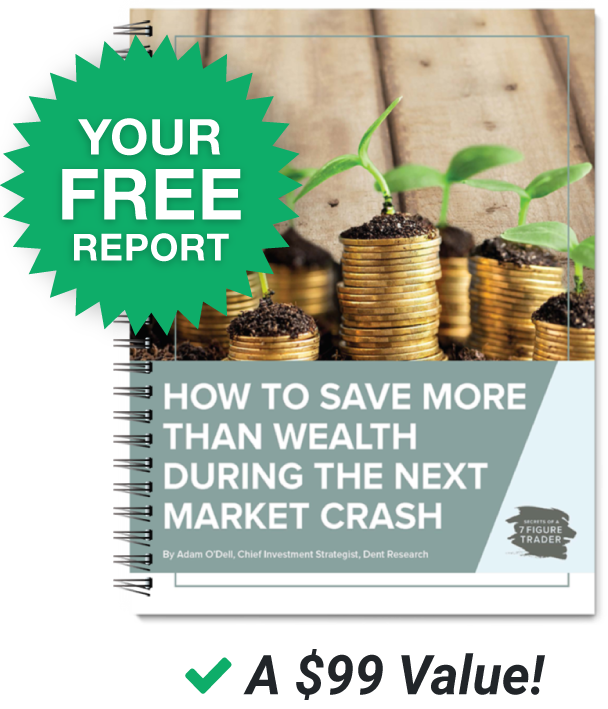 Premium Report: How to Save More Than HALF Your Wealth During The Next Market Crash
Sidestep the agony and financial ruin a market meltdown can bring… and actually make money at the same time. This report could save HALF of my wealth… or more… during the next market crash.
Charles Sizemore's
Peak Income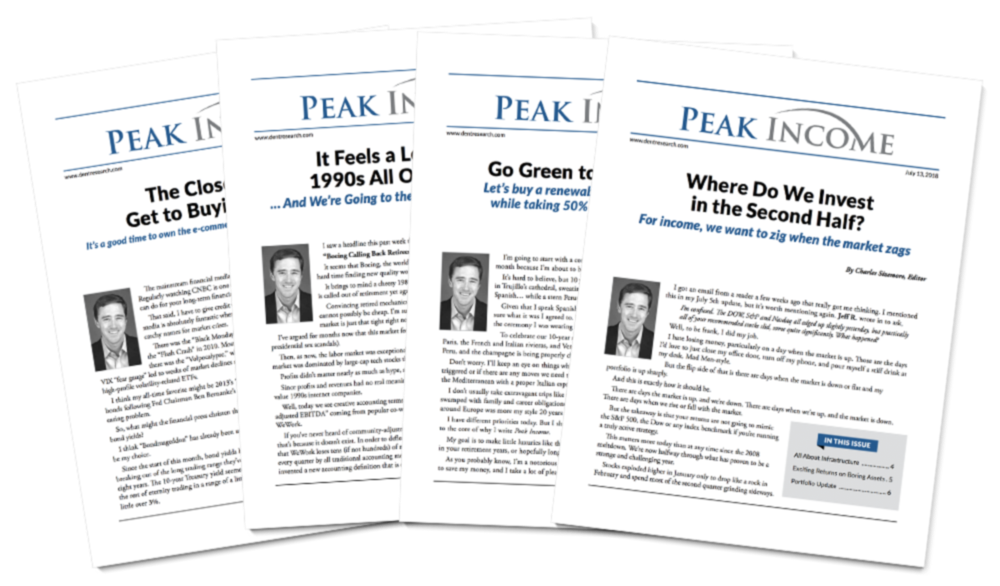 Peak Income Monthly Insights
Every month I will receive the culmination of all Charles' years of experience in finding smart ways to invest my money. His main goal is to show me how I can make more income with less risk on a rolling basis.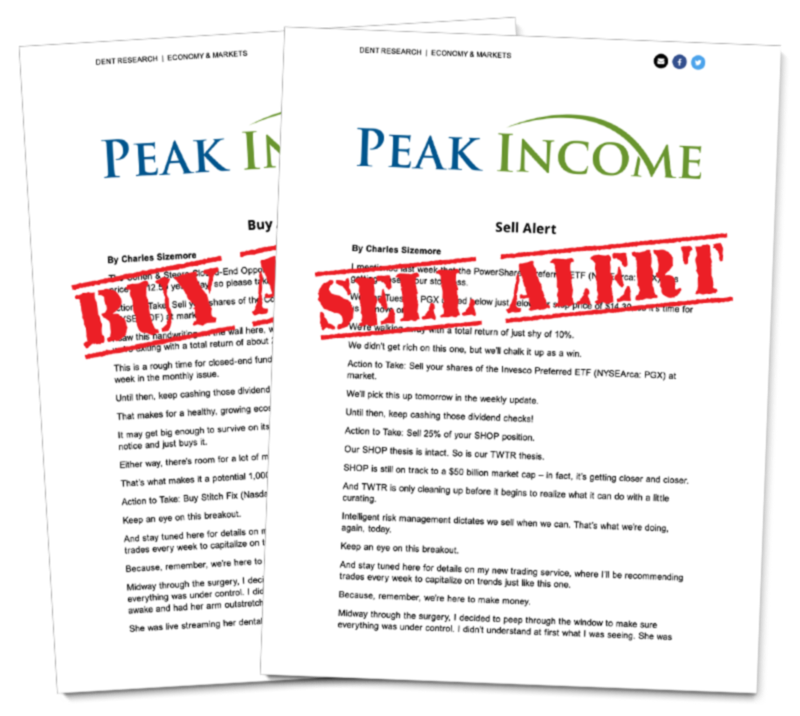 Peak Income Buy & Sell Alerts
I will receive buy and sell alerts for maximum profit and income. Charles will give me his insight on what is happening in the economy and how that could possibly affect my income during retirement. Plus, what to do to navigate any rough patches.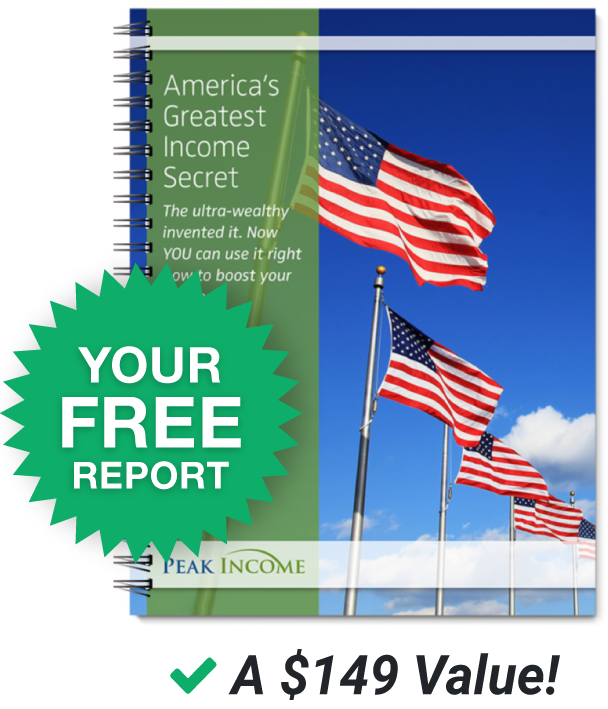 Premium Report: America's Greatest Income Secret: The Ultra-Wealthy Invented it. Now YOU Can Use it.
If I'm currently relying on bonds, savings, or just plain stocks for income, the money-making method I'll discover inside this report could potentially DOUBLE or TRIPLE my monthly payouts.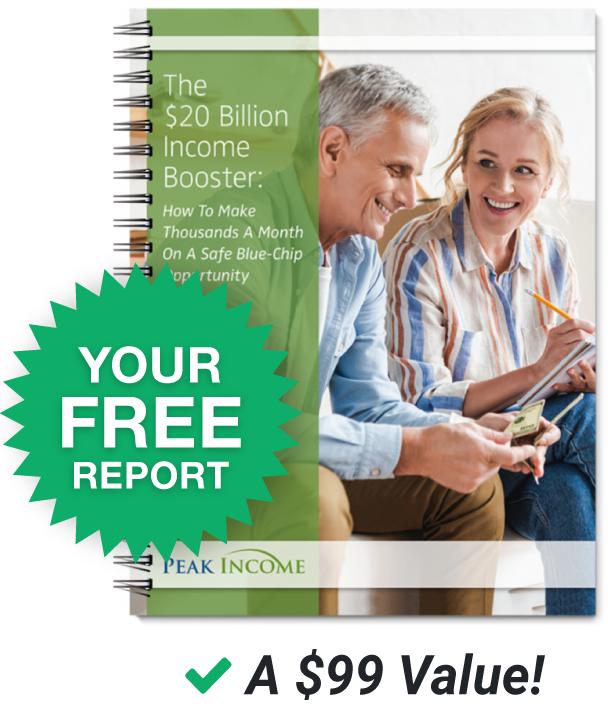 Premium Report: The $20 Billion Income Boost: How to Make Thousands a Month on a Safe Blue-Chip Opportunity
Inside this report I'll discover a stock that pays huge, regular dividends and boasts solid capital appreciation, which could add up to hundreds or thousands of dollars a month in additional regular income.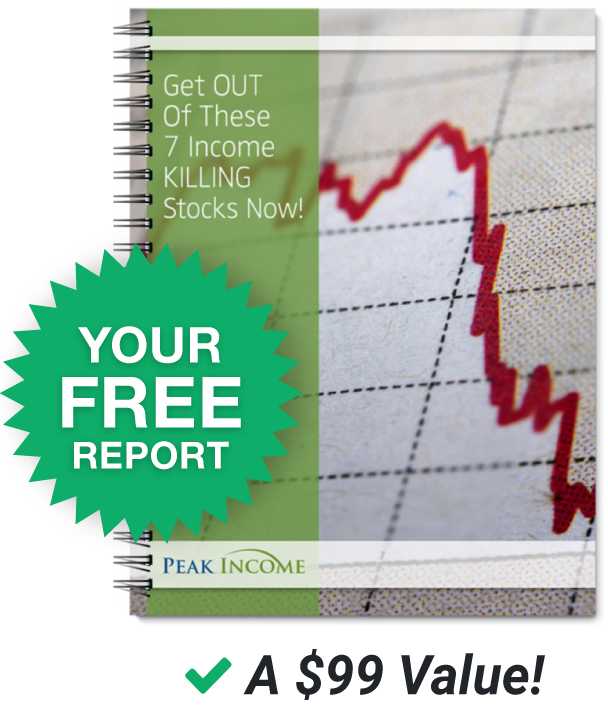 Premium Report: Get OUT of These 7 Income KILLING Stocks Now! Peak Income Monthly Insights
Inside this report, I'll discover seven stocks that are popular… massive… and even highly profitable… BUT could lead to my financial ruin. If I don't want to make the mistake of trusting these stocks to generate retirement income, this is a must-read.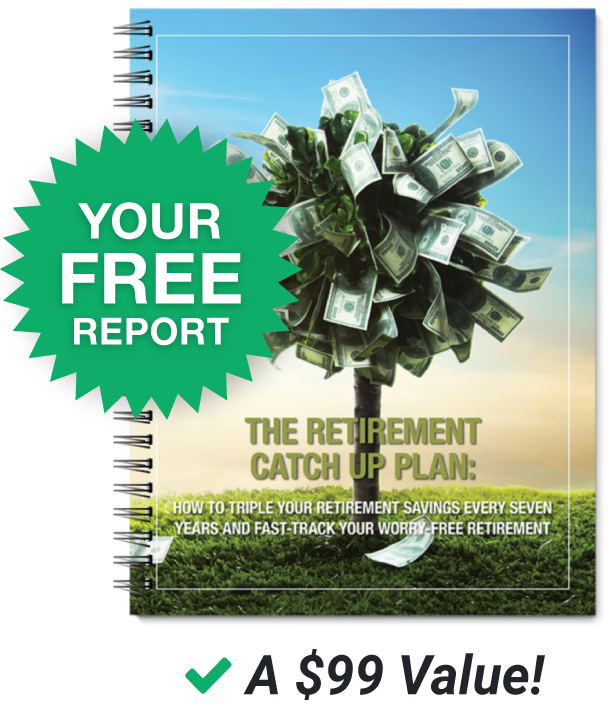 Premium Report: The Retirement Catch Up Plan: How to Triple Your Retirement Savings Every Seven Years…
I'll discover the exact steps needed to take for the chance to TRIPLE my retirement savings every seven years.
John Del Vecchio's
Hidden Profits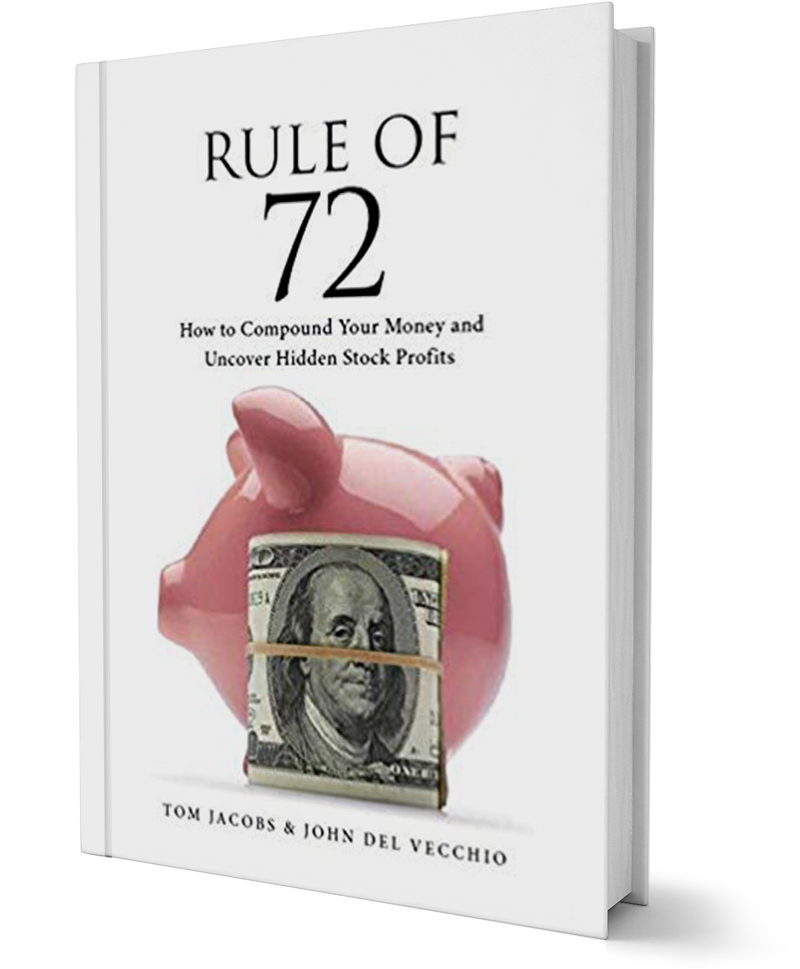 My latest book, Rule of 72: Compound Your Money and Uncover Hidden Stock Profits.
In this book I will learn how to stop falling for the "legal tricks" that corporations have been their shareholders for years… and will instead point me in the direction of stocks that will put ME first with their money.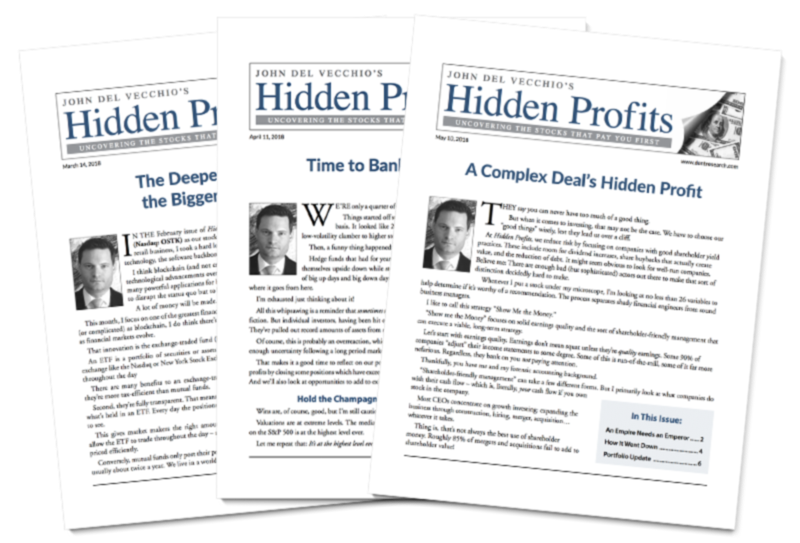 Hidden Profits Monthly Insights
Each month I'll get John's top-rated list of picks and why he believes they should be on the top of my radar. He'll also give me a breakdown on how it scored during his rigorous testing.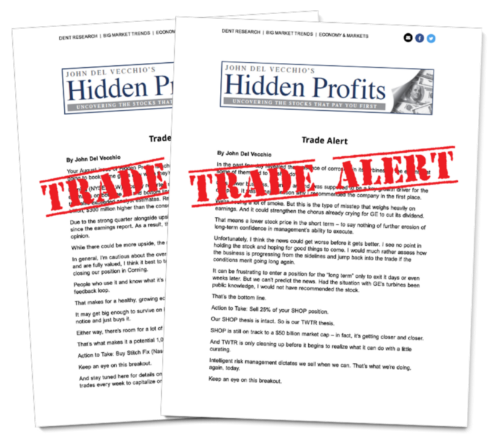 Hidden Profits Buy & Sell Alerts
Anytime there is a move in the model portfolio, I'll receive an alert with instructions on exactly what to do next. Including, how I can maximize the profit potential on his latest stock opportunity.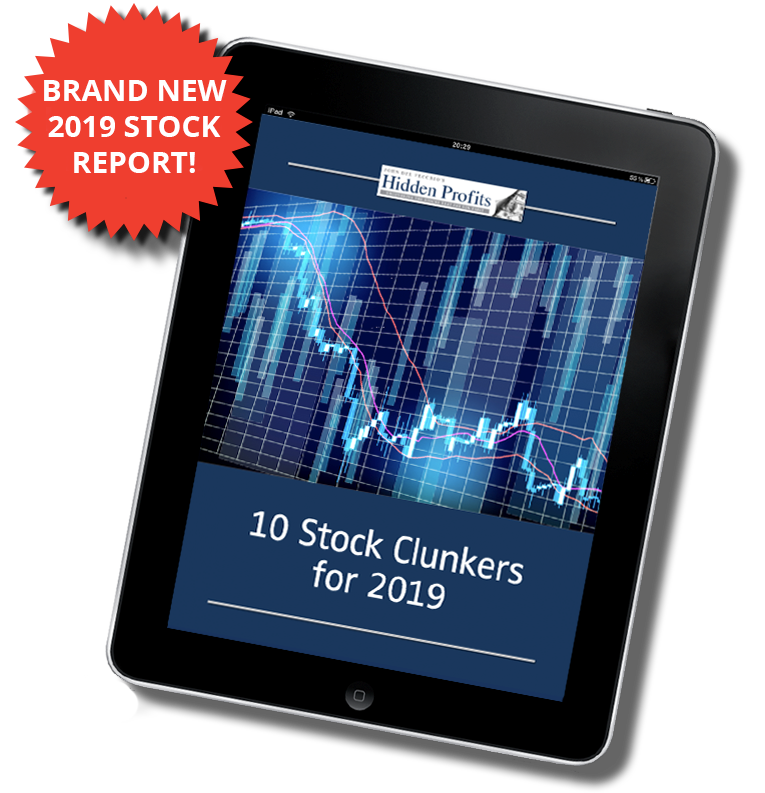 Premium Report: 10 Stock Clunkers for 2019
Inside this report, I'll learn if I happen to have any of these hazardous stocks in my personal portfolio. These 10 stocks could do the MOST damage to my portfolio this year.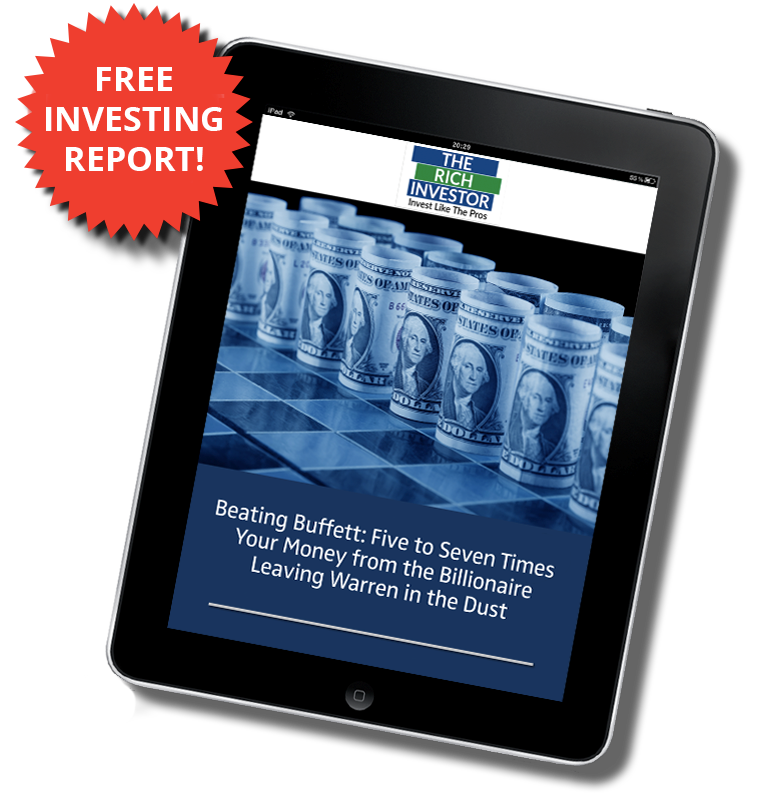 Premium Report: Beating Buffett: Five to Seven Times Your Money from the Billionaire Leaving Buffett in the Dust
Inside this report, I'll discover John's favorite billionaire to trust… and the two stocks he's linked to that could deliver as much as five to seven TIMES my money in the coming years.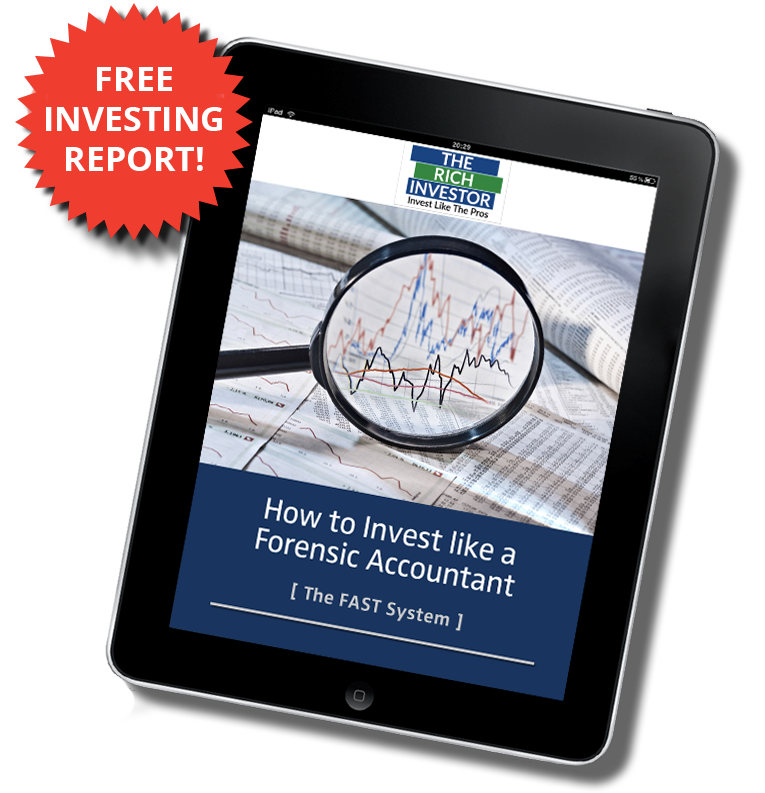 Premium Report: How to Invest Like a Forensic Accountant
This will be my go-to-guide for the six fundamental tests that John use to dissect a company's earnings statements. This is the first time he has released these secrets to the public!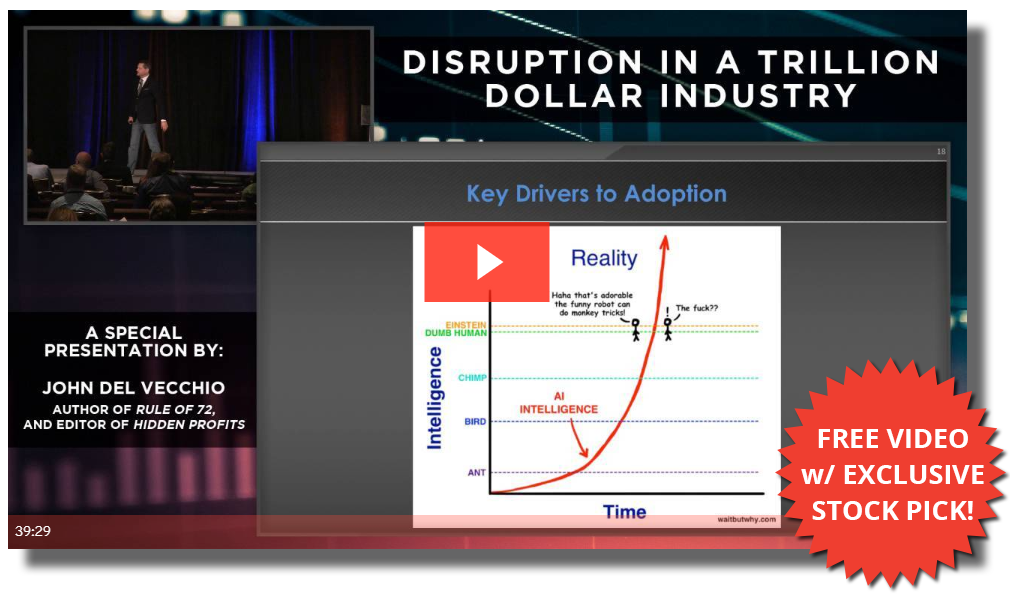 Bonus Video: Disruption in a Trillion Dollar Industry
I'll gain access to John's 2018 Irrational Economic Summit presentation where he reveals the name of a specific investment he's uncovered and why he believes it has enormous potential.
I acknowledge that this 4th of July Sale is my ONLY chance to receive a 1-year subscription to ALL THREE services for the never-before-offered price of $149.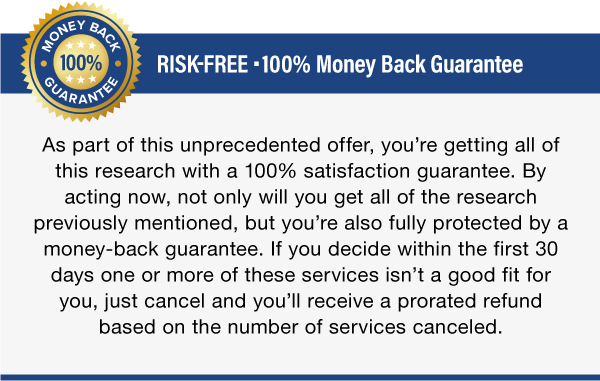 ---
Warning: Time Has Expired
Your chance to take advantage of this limited special offer has now ended.

However...

From time to time, a spot opens up.

Call our dedicated customer service team at 1-888-211-2215.

Thanks!


Dan Carr
Director of Customer Experience, Dent Research